On 11 December 2019 JR Central announced the withdrawal of its 700 Series Shinkansen high speed EMUs. The last run will take place on 8 March 2020 and it will be a special farewell Nozomi 315 train running from Tokyo to Shin-Osaka on operator's Tōkaidō Shinkansen line. The ticket purchase will be possible from 10.00 on 8 February 2020.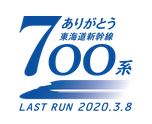 Shinkansen 700 Series trains are in service since 1999 and there were 91 sixteen-car 270 km/h EMUs. At present only about last five units are in service. These first Shinkansens with the distinctly aerodynamically optimized nose are being replaced by N700(A) Series trains which are in service since 2007. Furthermore, in test service is already a new generation N700S Series with improved performance.
There are still in service 700-7000 Series eight-car Shinkansens operated by JR West on Sanyō Shinkansen line.